Hi All, well I will show you what I have been struggling with/ working on
this little loco ready for a conversion to DCC and lighting , the original has no lighting.
Reduced: 95% of original size [ 900 x 580 ] - Click to view full image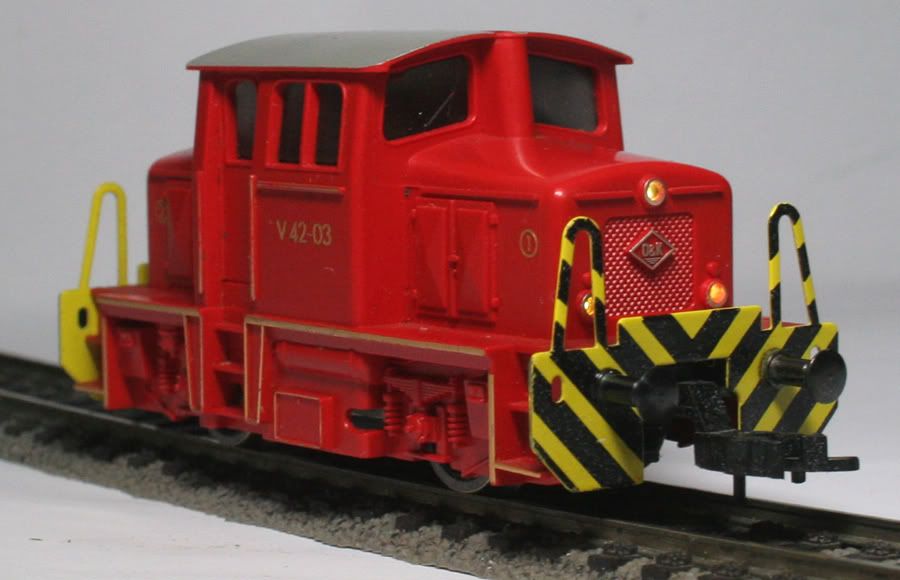 Firstly after pulling it apart , I made a little template of the lights
Then out with the Blu tack and some winding wire and SMDs
these are wired in series
Adding in the Blue and yellow wire time for a test
All works OK , I sandwiched the wiring and SMDs between two sheets of polycarbonate
for the other end I decided to try some thin card instead - less prone to heat damage and glue the polycarbonate to the back
The Test Loco , looks OK Now to do the real thing
Next I Modified the back plate with a dremmel cutting disc , isolating different sections. quite a few cuts are required.
The motor body has to be isolated from the brush holder .
I cut two more groves later to have an area to solder the blue white and yellow wire with their resistors.
All the wiring in place and then the Orange wire came out..,
I had another M4 decoder , so I had a look where the wire was supposed to be soldered to.
Cut open some of the heat shrink and re-soldered the Orange back in place with the help of a magnifying lens
Put it on the Programming track an all was OK
So a bit more shrink was added to the decoder
I drilled some small holes in the Red body
and the lights are are attached with double sided tape at each end of the chassis , the wires running over the top
I forgot to take a few photos , after the drama with the Orange wire.
The decoder sits nicely next to the motor
Just visible underneath